Thanx for visiting ChrisGarsonWrites!  This site is for people who enjoy reading fiction. I write full length novels, short stories, flash fiction (really short stories) and non-fiction.  My newest novel is Perk Noir, a piece of contemporary fiction about jazz, coffee, football and ninja girls.  It's got something for everyone – humor, mystery and romance.  Give it a try, I guarantee it will surprise you.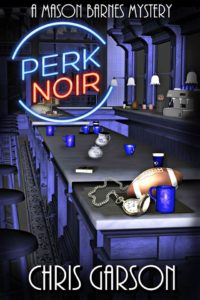 I also write an epic fantasy series titled The Tales of Ages which is set in the world of Sangrar.  The Tales are narrated by a character named Jerilyn Haligar.  The World of Sangrar  includes dozens of free short stories disguised as encyclopedia entries about the setting.  Jerilyn's Posts contains Jerilyn's musings on a variety of topics.  It's the only Sangrarian blogroll in existence.
Two novels from The Tale of Ages (Volumes 1 & 2 of the Scales over Sangrithar trilogy) are currently available:    The Curse of Arvyl's Folly and Madness Ascendant.
Some of my work is available for free, right here on ChrisGarsonWrites.  Other work is available for a nominal fee from Smashwords, the self-publishing service I use (what is Smashwords?).  Whenever you link to another site, like Smashwords, a new window will open on your browser.  Keep an eye out for coupons on these pages that will allow you to download from Smashwords at a discount or for free.
Perk Noir is also available on Amazon.  Eventually, my Sangrar novels will be on Amazon too.
For those of you who knew me back when I didn't wear shabby cut-off sweats every day, you might have wondered where I've been these past four years.  I readily admit, I've been a bit too anti-social.  That's the result of choosing a solitary craft like writing and to some extent, my admittedly strange obsession with reality singing competitions.  Between writing when the inspiration strikes and watching too many late night hours of DVR'd power ballads, my circadian rhythm is shot and I've developed terrible sleeping habits.  But, now that my site is available (but not complete, it will never, ever be complete) to showcase my writing and the singing shows are on summer break, I plan on being out and about more – when I'm not working on Volume 3 of Scales over Sangrithar, which is currently underway.  To my friends that I haven't talked to in too long, let's reconnect.
If you live in town, you can find me hunkered down in my hidey hole of choice – Phoenix Coffee, at the corner of Lee and Silsby, in Cleveland Heights, Ohio every morning and many afternoons.  I've turned out page after page in their friendly confines, which you can read if you're so inclined.  I hope you are.  The best gift you can give a writer is reading his or her work.  There's plenty to choose from.  I've been busy and productive, even if I'm not the next coming of Hemingway.  In the last year, I've finished two novels and more than a hundred short stories, many of which are disguised as encyclopedia entries in the World of Sangrar section of the website.
As Jerilyn would say, enjoy noble reader!
———————————————————————————————————–
You might be wondering just what the heck "Good Edda" means?  Three suns light Sangrar:  Edda, Imma and Olla.  The day is divided into three eight hour watches named for each of the Suns.  On Sangrar,Good Edda is the proper way to say good morning. Good Imma means good afternoon and Good Olla is the equivalent of good night.